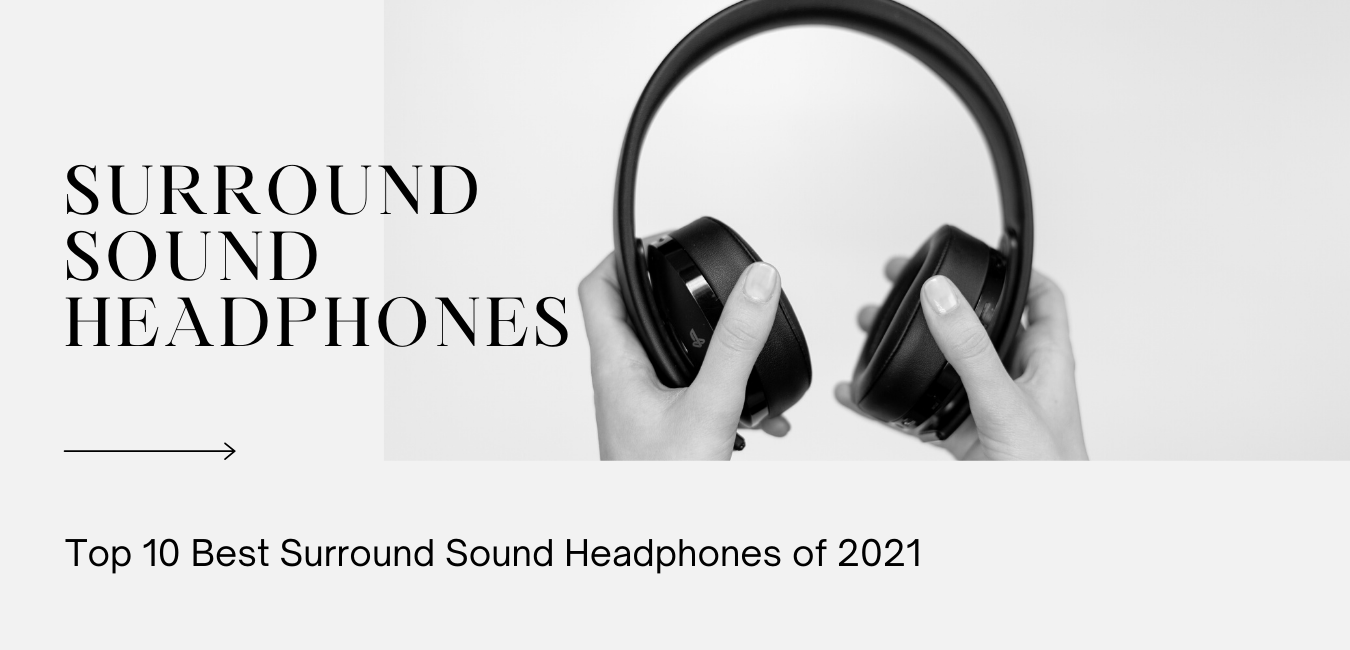 When it comes to headphones, we have a lot of options. As we move into the age of smart devices, our demand for them has skyrocketed. Before, we mostly utilised them for pocket radios, CD players, and handheld gaming gadgets for youngsters. A day's worth of usage of these technologies was reduced in favour of more engaging activities and responsibilities.
Audio quality, convenience, and usability have become more important due to the constant use of internet-enabled smart gadgets throughout the day. Since the advent of noise-cancelling, high-quality stereo sound with no loss or distortion, it has appeared that we have reached the end of the road in terms of sound.
The development of sophisticated Bluetooth headphones with multi-channel surround sound has changed all that in recent years. There are more than two speakers required for surround sound to work with headphones, and acoustic spacing is critical. Isn't it true that technology is capable of incredible feats?
As a marketing technique, gaming headphones, especially those with surround sound capabilities, were originally looked upon with suspicion. Virtual surround sound headsets, which use special software to mimic a surround sound experience, have grown in popularity in recent years due to their effectiveness in fast-paced multiplayer games. Affordability and widespread acceptance of these devices is also increasing with each passing day. Accordingly, we've collected together the 10 best surround sound headphones you can buy right now.
But, before buying the best surround sound headset, some factors have to be considered. The surround sound headphones are not just about music and good sound experience, so before selecting your choice out of our 10 options, you need to know about the factors which help you to decide according to your requirements.
6 Factors to consider while buying a surround sound headphone:
1. Connectivity
There are two types of surround sound headphones available today: cordless and corded. This might be especially true if you are using the headphones as a gaming headset in front of your computer. A great wired headset will do the job just fine. In the first place, while wireless headphones are fine, don't be put off by something that needs a cable. Using wireless headphones is most beneficial when listening to anything you can't carry about or if you're scared of bringing your phone around with you for whatever reason. No need to constantly replace cells or recharge wired headphones.
2. Microphone
Surround sound headphones are available with a variety of microphones. Detachable models, noise-cancelling models, and linear or circumferential models distinguish them. How you choose a headphone microphone depends on your daily routine and what you plan to use it for, in most cases. You're not going to need a microphone with surround headphones unless you're a content creator of some kind. This means you're likely to need a dedicated microphone instead. As for a mouthpiece, it would also get in the way very often.
3. Comfort
How long do you typically wear your headphones? What activities do you engage in while wearing headphones? Consider the following: viewing movies, making phone calls, and playing your favourite music. Do you require a lot of space to move? A good example would be cordless surround sound headphones, which would be ideal for watching movies. The materials used in the ear cups should also be examined to verify that they are pleasant to use for long periods without sweating and that they will also be durable.
4. Compatibility
In the absence of Bluetooth, you'll require 3.5mm. There is the normal headphone jack that you've seen and used your entire life. There is no sign of this jack form factor disappearing anytime soon, despite what Apple and others may think about it. You'll be able to put your headphones into any sound device produced if you have this form factor, apart from those Smartphones that are poorly built. If you choose USB, you are limited to a small number of devices that support USB sound. However, the vast majority of cell phones do not. In fact, most stereos don't even support USB connections.
5. Noise Cancellation
If you're looking for a more immersive listening experience, you'll want to choose True Surround sound headphones. Although Virtual Surround Sound Headphones tend to be more durable than their counterparts and are often less expensive, they are nevertheless capable of doing the task at hand without compromising on quality. Gamers, on the other hand, may choose True Surround Sound Headsets since they allow them to hear sound in all directions and know where the shooter is located.
6. Light and Durable
If they are heavy, they might be uncomfortable or exhausting to use. But a heavier weight comes at the expense of greater durability. You'll have to find a balance between comfort and durability.
Now, let's pop into the top 10 Best Surround Sound Headphones with their pros and cons.
List of 10 Best Surround Sound Headphones
The Corsair HS60 Pro Surround – 7.1 Virtual Surround Sound Gaming Headset (CA-9011213-NA) is an improved version of the original Corsair HS60. The Corsair HS60 has a lot going for it, including exceptional build quality, decent sound performance and usability, and a low price. Overall, these wired gaming headphones function well and appear virtually comparable to the previous generation, except for somewhat larger padding on the ear cups, which makes them more comfortable. As a consequence of their larger padding, these headphones produce a tighter seal on the head, resulting in a bass-heavy sound profile. Even in moderately loud situations, their boom microphone functions effectively. You can wear these for long periods without feeling uncomfortable. They also appear to be quite well-made and sturdy.
The Corsair HS60 Pro Surround improves on the HS60. If you adjust the EQ to accentuate sound cues, the headset's simulated 7.1 surround sound might be useful when gaming. Game audio also sounds great when shot with the 50mm while using stereo mode. The stereo audio format is better suited for music. We'd also want a flattering response.
Consequently, the main reason for buying this headset isn't for its simulated surround sound, but for its excellent build quality and comfort instead. The HS60 Pro Surround creates a name for itself in the congested mid-priced gaming headset market with these outstanding features and more.
Pros
Good Build Quality
Comfortable fit
Decent sound quality
Cons
Less call functionality features
Poor noise cancellation
A stylish and comfortable sub-$100 headphone, the Kingston HyperX Cloud II falls short in the low end. Despite its above-average quality and casual appearance, the HyperX Cloud II gaming headset isn't restricted to indoor use. Once the microphone is removed, the headphones seem like any other pair of headphones, despite their distinctive colour scheme. Good quality, durability, and comfort are all hallmarks of these chairs. Gameplay and movie viewing are both made possible by their connected architecture and minimal latency. Noise cancellation is not included in these headphones, making them less than ideal for commuting or travelling.
Compared to its wired version, the wireless headset has very few physical differences, and that's a good thing. It's still one of the best surround sound gaming headsets on the market today. When you consider that the HyperX Cloud Alpha has a comparable microphone and audio system, this is a really good value for around $150. Many more costly gaming headphones aren't as comfortable to use.
Pros
Low latency
Immersive sound experience
Cons
Poor noise cancellation
Large and heavy
The SteelSeries Arctis 7 has been superseded by the Arctis 7P/7X. However, the 7P/7X utilises a USB-C adaptor for wireless connections with a wider variety of devices, whilst the 7P/7X does not. From the moment it was released, the SteelSeries Arctis was on our list of the best gaming headsets. The Arctis 7 Wireless is the only headset with a similar degree of adaptability. There's no denying that the Arctis 7 is a superior overall investment as it is considered to be as best surround sound headphones for PCs and PS4s thanks to its more comfortable elastic headband and quality sound.
Although the Arctis 7 is just $50 more expensive than its wired version, it's surprising to find that wireless headsets may cost hundreds of dollars, and PC-centric headsets typically lack crucial functions like 3.5mm ports and microphones. Nothing is difficult to use, and everything works as it should. A fantastic sound system, especially for gaming, makes the Arctis 7 an impossible sell. But as this review of the SteelSeries Arctis 7 proves, we're getting close. This should sound fantastic, obviously, but it should be convenient and compatible with as many devices as possible. These objectives are all accomplished with the SteelSeries Arctis 7 under the $150 price point.
Pros
Wireless connectivity
Value for money
Immersive sound experience
Cons
Average microphone output
The Kraken X gaming headphone from Razer is really basic. We found them to be lightweight, comfy and a little less bulky than other Razer headsets we've used and the best 7.1 gaming headset. In addition, their connected connection delivers a latency-free audio gaming experience. It's too bad that they're built of inferior materials, and that their simplistic control method is inadequate for casual use. Sound-wise, they're also a little off-kilter. On the other hand, if you want loud, bass-heavy sounds on your console or PC, these speakers might appeal to you.
A fantastic gaming headset, the Razer Kraken X is a dependable, cheap headset that satisfies all the criteria. Anyone who wears glasses will find the eyewear channels to be a welcome addition. Those looking for a simple set of gaming headphones with cross-platform compatibility might consider the Kraken X. Check out the SteelSeries Arctis 7 Wireless, which has a slightly more balanced sound profile.
Pros
High-quality 7.1 surround sound experience
Value for money
Reliable for a good gaming experience
Cons
Average build quality
Poor noise cancellation
Whatever the version of your computer, the Jeecoo Xiberia USB Pro Gaming Headset is a wonderful option for every gamer! It's made possible by a variety of features and functionalities, which we'll explore in due order. This is one of the best 7.1 surround sound headphones with 50mm neodymium magnets and a built-in USB audio sound card are the first and prominent on the list of features. As a result, the audio quality of your gaming experience is enhanced to an incredible degree. Sound is a key element of every gamer's enjoyment, as well as their competitive success, since being able to hear opponent footsteps or notice gunshot or explosion directions may be a huge advantage.
The headset also features an in-line controller, which has a volume adjustment, a microphone volume adjuster, and an on/off button for the microphone. If you like, you may connect it to your shirt with a clip. The headset's construction is also extremely sturdy. Overall, the product is incredibly pleasant and durable thanks to its metal headband, microphone, thick cushion cushions, soft earmuffs, and tangle-free wire. It's a fantastic choice for anybody looking for a solid gaming headset that's both comfortable and durable.
Pros
Excellent build quality
Good Noise cancellation
Better surround sound experience
Cons
A long-delayed upgrade to the G430, the Logitech G432 wiring gaming headset has all the features that made its predecessor desirable, plus a vastly improved audio experience. But it also has the appearance and feel of a four-year-old toy. The G432 is worth checking out because of its outstanding audio performance, flexible connectors, and cheap price tag. Its physical design hasn't aged very well, on the other hand, and you can find nicer devices for less money.
With much enhanced audio drivers and a few aesthetic modifications, the G432 is a far superior product to its predecessor four years later. But many of the same flaws remain, such as a cheap feel and an unsatisfying fit. Overall, though, I believe that the G432 has more to offer than it does to deter. There's a nice balance between the music and the game sounds, and it's compatible with whatever gaming system you possess. If you prefer 3.5-millimetre connections, the G432 has these as well.
Pros
Excellent microphone output
Comfort fit
Decent sound performance
Cons
Poor design and build quality
Poor noise cancellation
The Razer BlackShark V2 X is the BlackShark V2's economical counterpart, with fewer features and a lower price point. They don't come with a lot of extras, like companion software or a USB sound card, but they do give a good gaming audio experience. A boom microphone captures your voice clearly even in noisy situations, and they're comfortable enough for multi-hour gaming sessions. They're also fully wired and compatible with most consoles. Using the Razer BlackShark V2 X is easy. No matter where you are in the city, their boom microphone will pick up your voice clearly no matter where you are. This implies that you can hear a lot of what's going on around you when using these headphones. In addition, they lack any kind of call management measures.
Without investing a fortune, Razer's BlackShark V2 X is a great opportunity to check out new drivers from a respected gaming company and the best 7.1 surround sound headset. When it came to playing video games, 7.1 was apparent and beneficial in this situation. Plus, the overall fit is comfy. In particular, in comparison to the Razer Kraken X, the design itself does not feel durable. The BlackShack V2 X features metal forks and exposed wire, whereas the latter headgear has a more uniform design.
Pros
Decent Noise cancellation
Decent microphone output
Comfort-fit and lightweight
Cons
Poor bass and treble sound
Turtle Beach's Ear Force Stealth 450 provides PC gamers with completely wireless audio, and it sounds excellent, too. Its digital 7.1-channel surround sound, paired with presets, makes it easy to lose yourself in your favourite games – or get an advantage over a close rival. As a wireless gaming headset, the Stealth 450 isn't the most comfortable option available. Apart from being wireless, the Stealth 450 also has virtual surround sound and can be used with the PlayStation 4 as a stereo headset. To keep the headset's price low, Turtle Beach had to make shortcuts. The rigid padding and headband are unpleasant when compared to more expensive, noticeably thicker wireless headsets.
It's a steal for around $100 price point for Turtle Beach's Ear Force Stealth 450 wireless gaming headset. The wireless range and extended battery life make this headset excellent for people who prefer to play PC games. Even though the Turtle Beach Ear Force Stealth 450 is packed with capabilities, it looks excellent. As of right now, it's the most affordable and best surround sound headphones gaming on the market.
Pros
Decent wireless headphone
Value for money
Light and durable
Cons
Uncomfortable fit
Average noise cancellation
the TUF Gaming H3 is also quite comfy. A conventional style is still effective. The lightweight of the band and drivers is evenly distributed by the clamping force, which prevents them from falling off your head. To reduce fatigue over time, the ear cushions are made of pleather that cools quickly. When it comes to ergonomics, the TUF Gaming H3 distinguishes itself from other headphones in its class that cost twice as much.
In this regard, the TUF Gaming H3 Wireless headset makes a strong case. The wireless 2.4 GHz connection was meant to provide users with an unimaginable amount of flexibility. The airtight chamber design and ASUS Essence 50mm drivers let you feel every minute of the game. You should check out the Asus TUF Gaming H3 if you're looking for an inexpensive headset. Anywhere in the price range, quality and convenience are of essential importance. In fact, the headset does quite well at both, to such an extent that I'm shocked it's ranked lower than the more costly Asus TUF Gaming H7 headset.
Pros
Affordable
Comfort fit
Decent sound quality
Cons
Average build quality
Moderate surround sound performance
Philips Audio USB Computer Gaming Headset's 50mm neodymium drivers power the headset's audio outputs, a feature you'll find on most high-end gaming headsets costing $100 or more. In terms of virtual sound quality, the 7.1 surround sound works decently. Philips' only 7.1 surround sound gaming headset, the TAG6105, is an upgrade to the SHP9500 headsets, which were well regarded. Because there are no moving parts on this over-the-ear headset, its flexibility is compromised for its lifespan.
The headset's earcups are breathable and have enough clamping force to accommodate medium-sized heads. A unidirectional microphone has been added for clear sound and crispness. There's also RGB Chroma lighting on the earcups' exteriors. In this case, Philips has chosen substance above aesthetics, which makes it one of the best 7.1 headphones available right now.
Pros
Well designed
Lightweight and durable
EQ moderators available
Cons
No Audio Jack
No Noise cancellation
Summary
Depending on your PC or console-setup, budget, whether you require a decent microphone, and whether or not a wired headset would suffice, you'll want to make your decision. In any case, the more you spend, the greater the benefits you'll receive as a result of that payment. You'll also need to know how to calibrate surround-sound headsets for the best results. These are the ten best 7.1 headsets you can purchase in 2021, according to our experts.
But, if you ask us for the best 7.1 surround sound headset with excellent surround sound performance, we would recommend the SteelSeries Arctis 7. This would be a great choice for you if you are ready to sacrifice slight microphone audio output.
If you want a better gaming experience, but you are not concerned about wired headsets, then the Razer Kraken X would be a better option for you, which gives the best gaming sound experience at an affordable price.