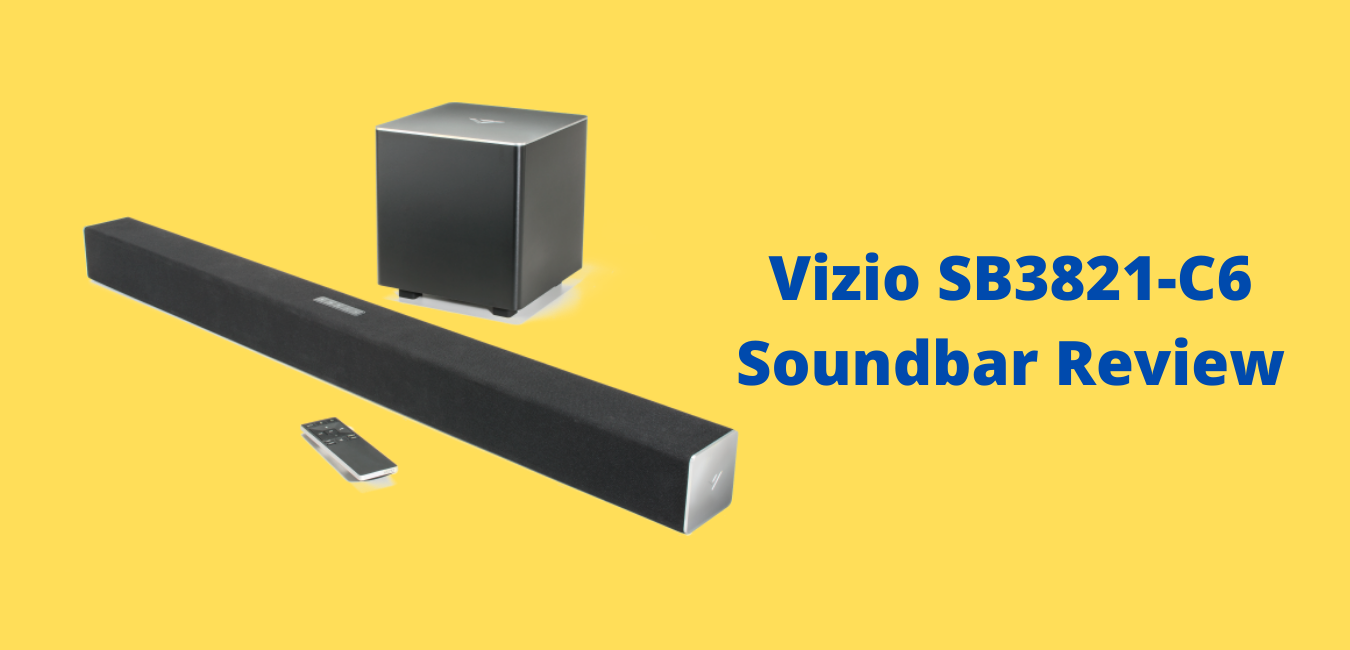 Introduction
Are you looking forward to transforming your room's entertainment system? Or better yet, are you tired of the typical sound system in your house that you don't feel the sound energy that you usually feel when in a movie theater? Vizio soundbar sb3821 c6 is a remarkable sound technology that will make your house feel like you are in a movie theater. Of course, other similar products are serving the same purpose, but in this review, I will tell you why you need to consider Vizio soundbar sb3821 c6 as a perfect solution to your home's sound system.
What is Vizio sb3821 c6 Soundbar?
Allow me to start from the basic definitions of this product. First, I assume you already know what a soundbar is. However, I will clear the air by defining a soundbar as a gadget that produces sound. However, the primary purpose of the Vizio sb3821 c6 Soundbar is more than just making the sound. Before I settled on purchasing this piece of technology for my home, I had a problem with my previous sound system.
The main problem with my previous sound system was that it was not good at filling the room with a bass effect. It also did not reach the sound clarity, especially for the music and movie that I wanted. I wanted my room to have unique sound effects that you would probably think you are in a 3D movie theatre.
How does vizio sb3821 c6 soundbar work?
In this Vizio sb3821 c6 review, I will tell you precisely how this piece of technology works, so don't be scared because you have probably heard that it uses state-of-the-art technology. The fact that the Vizio sb3821 c6 soundbar uses high technology should be an added advantage to solving your problems. I will begin by mentioning its extensions. The Vizio sb3821 c6 2.1 soundbar comes with powerful speakers and a wireless subwoofer. The speakers and subwoofer are paired, so you don't need to worry about having a mess of wires in your house. Most people who love sound systems have at least once experienced this challenge, and I am not an exception.
Back in the days when I was still in college, I had a sound system that had a wire connected to each of its components, except the remote. It was such a headache to move about the room, especially at the specific corner where I had placed the system. I had to be extra vigilant to avoid trapping my toes on the loose wires, considering how tiny the room was. One day my toes got trapped as I was quickly going to the next room, and that is how I ended up damaging one of the speakers.
Therefore, the Vizio sb3821 c6 subwoofer works perfectly with its wireless connection to the speakers, saving you time, the risk of damage, and money. You can connect the soundbars to your television or personal computer through Bluetooth or WiFi. With all things set, you can use the gadget's remote to adjust the sound volume and settings according to your preferences.
Features of vizio sb3821 c6 2.1 soundbar
1. Dolby Digital decoding with premium audio
The Vizio sb3821 c6 soundbar uses the DTS audio post-processing to produce excellent sound quality and a surrounding effect. You don't have to worry about having your small movie theater in your house again. Since I started using the Vizio sb3821 c6 2.1 soundbar, my room experiences excellent sound effects dimensions. It doesn't matter whether I am watching a television show or playing music from my personal computer or mobile phone since the experience is just a perfect definition of improved audio definition.
One customer, Zisis Kerkides, says that "Sound fidelity is great, the bass is convincing. When watching movies, it seems like you are in the middle of the action, even without surround speakers."

Zisis Kerkides
2. Wireless subwoofer
By the word wireless, I mean wireless. In a nutshell, you don't have to hustle with wire connections as the subwoofer has an installed Bluetooth and WiFi software that have since replaced wires. So, apart from the power cable, the device does not require any other wire connections. I find the wireless aspect of the subwoofer an added advantage since I don't have to worry about my feet getting entangled in the wires anymore, although I no longer stay in a small room apartment. For me, the combination of the wireless aspect and the explosiveness of movies and music sounds is what I was lacking until I purchased the Vizio soundbar sb3821 c6 2.1 model.
According to SJ, who also bought this product, "The Bluetooth wireless connection to the subwoofer was an important consideration so that the installation could remain as invisible as possible…The instructions were clear enough, and the subwoofer paired with the system without a hitch." (

SJ
However, another customer explains having a negative experience with the wireless subwoofer. PMA points out that upon arrival of the Vizio sb3821 c6 2.1 soundbar, it produced great sound. However, the customer became disappointed when the wireless sub box did not function at all.
According to PMA, "the soundbar sounds great. wireless sub box dead on arrival."

PMA
3. Extensive and good quality audio
The one thing that I found interesting about Vizio soundbar sb3821 c6 2.1 is the quality of the sound produced. The device has a DTS TruVolume and DTS audio post features that significantly contribute to the sound quality. I realized that with the DTS TruVolume, I could adjust the volume to a particular level according to my preference and maintain the volume there during the entire period of watching a movie.
JP, a customer, also points out that "For my 20' x 14' Family room, the bass is deep and booming and adjustable depending on the source I feed it. So far, no audio sync issues with any sources or streaming apps."

JP
With the DTS TruVolume, I have also been able to balance the volume of quiet films and commercials that appear suddenly in the middle of the viewing. This setting was a relief since before I bought the Vizio soundbar sb3821 c6, my previous sound system sometimes irritated me due to the sudden volume increase when an advertisement appeared in the middle of watching a quiet movie.
However, according to another customer review, the Vizio sb3821 c6 2.1 soundbar worked perfectly within the first month of purchase, after which it started developing some sound malfunctioning with the production of certain crackling sounds when playing music in a deeper bass sound setting.
Boarhind points out that "At first the soundbar worked great. However, after a month, I noticed I started getting a crackling when certain deeper/bass-is sounds were played."

BOARHIND
4. Bluetooth connection
Convenience and accessibility are among the factors that most electronic devices buyers look for before purchase. With a built-in Bluetooth, it is even much easier to use the Vizio soundbar sb3821 c6. You have to power the soundbar, and with just a touch on your PC or mobile phone, you can select any song to play from the comfort of your couch. Luckily for me, I already had previous experiences with Bluetooth-installed sound systems. I can tell you that playing music via the Vizio 2.1 Bluetooth connection has an enhanced experience, primarily due to the 100db sound pressure 50-19hertz soundbar frequency.
Crystal, a customer, also points out that "Connecting Bluetooth to it from our phones is simple and quick and it is equally simple to connect it to our television. Our movies sound great, and so does our music."

CRYSTAL
However, some customers have reported a seemingly not-good experience with the built-in Bluetooth of the Vizio sb3821 c6 2.1 soundbar. For instance, according to Matthew Pires, the experience with the Bluetooth functionality was not what he expected. Matthew Pires says that he was not happy with how the Bluetooth was somehow choosy when switching from one device to another. In the review, this customer also expresses his dissatisfaction with how the Bluetooth was slow when it came to changing input sources.
Matthew Pires also explains that he did not love how the Bluetooth kept turning off after being inactive for just a short period.

Matthew Pires
Pros of Vizio sb3821-c6 2.1
In my experience with Vizio 2.1, I realized that the advantages far much outweigh the disadvantages. That's why I give this product a thumbs up. This part reviews the benefits of the Vizio sb3821-c6 soundbar that I found worth noting.
The Vizio sb3821-c6 is easy to set up, and I also enjoyed setting Everything up to and connecting to other Bluetooth devices.
The Soundsystem is affordable and, therefore, worth the price.
The built-in Bluetooth program has excellent features. I enjoyed the flawless shifting from speakers to listening via the mobile phone.
The fact that it is wireless brings up the whole aspect of neatness and ease of setup that I found exciting
It brings out a whole new experience of a movie theater at the comfort of your home.
The sound is excellent, and it also produces clear speech and an all surrounding bass effect.
Cons of Vizio sb3821-c6 2.1
Since there is no perfect technological device, the Vizio sb3821-c6 2.1 is not an exception and also has its disadvantages.
I realized that the Bluetooth connection only works perfectly within a specific range of distance, and sometimes it is slow. Matthew Pires, a customer, says that "Everything I could have asked for. My only gripe is that the Bluetooth can be a bit finicky when switching devices, it's a bit slow when changing input sources and that it turns off if inactive for only a short period of time. Otherwise, excellent sound, depth, and clarity."
This product lacks an HDMI port, and from the look of things, an HDMI port is significant for desktop users. I discovered that it was somehow challenging to achieve low frequencies.
Who is the Vizio sb3821-c6 2.1 soundbar for?
I will tell you that the Vizio sb3821-c6 2.1 soundbar does not have a specific niche of customers. Therefore, anyone can purchase the device and enjoy its super entertainment services. However, if you want a sound system that will bring an extra array of effects into your home, then the Vizio sb3821-c6 2.1 soundbar is for you. Additionally, if you love watching television shows and movies, playing video games, and listening to music, then this is the perfect soundbar for you.
Final thoughts
The Vizio sb3821-c6 2.1 is an excellent way of transforming your home from a monotonous experience to a whole new level of movie theater experience. This is due to the high-quality sound production that will make you get the feeling of satisfaction. The Vizio sb3821-c6 2.1 soundbar will make you look forward to returning home from work so that you can enjoy the feel of the music or movie if you are more into films than music. Apart from the few limitations that the device has, I found it helpful since it solved most of my problems.