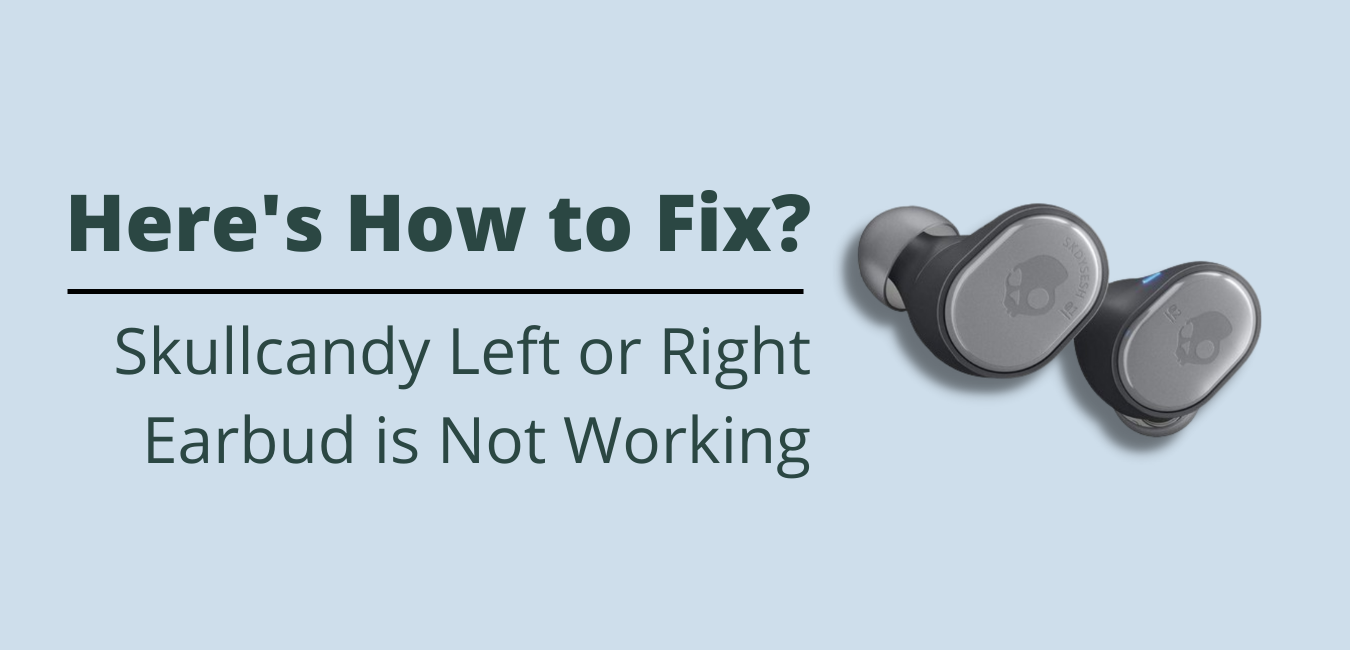 If you're having trouble getting your Skullcandy left earbud to work, don't worry – you're not alone! A lot of people have this problem. In this post, we'll provide a few solutions that should help get your earbuds up and running again.
Sometimes not only left but Skullcandy right earbud not working. There can be many reasons for this kind of issue. We will go through all the possibilities one by one and try to fix the Skullcandy earbuds not working issue.
How to troubleshoot Skullcandy left or right earbud not working?
If you're only having trouble with one Skullcandy earbud, it's likely that there's an issue with the Bluetooth connection. To troubleshoot this, try to follow these steps
Check if the Bluetooth connection is turned on and working properly.
If you're using a phone case, try taking it off and see if that fixes the issue.
Make sure you're using the correct earbud for the correct side.
If the still problem does not get fixed then there might be some issues with your Bluetooth connection. In this case, you can try the following solution
Solution 1:
Try to turn off both the Bluetooth devices:
Put both earbuds in the charging case and close the lid.
Now, turn off the Bluetooth in your phone/tablet/pc and wait for 15 seconds.
Again turn on the Bluetooth in your phone and open the lid of your earbuds to turn pairing mode on and try reconnecting them.
If the problem doesn't fix try solution 2.
Solution 2:
The second solution is to try to fix them by resetting the earbuds. For this, you need to follow these steps carefully
Put both earbuds in the charging case and close the lid.
Go to the Bluetooth setting on your device.
Remove the earbuds from your pairing mode list.
To reset your earbuds, remove the left earbud from the case and click on the center button for a few seconds until the LED indicator flashed red.
Your earbuds are now successfully reset.
Put them back in the charging case.
Now follow the same steps to reset the right earbud.
After resetting the Skullcandy earbuds, sync again with your device.
Hopefully, this method will work for you, and your earbuds are up and running.
Solution 3:
If the above solutions don't work, then it's possible that there is an issue with the charging case. In this case, you can try to follow these steps
Check if the charging case is properly charged.
Try cleaning the charging case and the earbuds with a dry cloth.
Hope your Skullcandy Earbuds will work fine now!!!
Conclusion:
We hope that this post was helpful and you were able to fix the Skullcandy left earbud not working issue. If you have any other questions or suggestions, please feel free to leave a comment below! Thanks for reading!